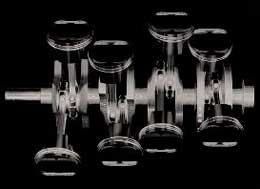 Ah, this is where the rubber meets the road - or, to be precise, where the wrench meets the nut.
Once you've learned to drive, this is where you come to pull the last couple of seconds out of your Viper.
Tip: New drivers often believe they can cure every ill in the garage. They're wrong.
Staying on the track and out of the garage is the quickest way to go fast.
The Garage menu is excessible from the track screen. The menu has four tabs:
Chassis, Align, Aero and Drivetrain. There are two additional buttons in the
lower-right screen area - File and Test. Clicking on the File button pops a new
window where you may choose to load an existing (previously saved) car setup,
Save your current setup, or load the Default setup for the current track.
From the Chassis menu you may adjust your Viper's chassis. There are four adjustable
settings on this screen: Bump, Rebound, Springs and Anti-Roll. When motionless, the
Viper's weight is semi-equally divided between the four wheels, or "corners".
There's slightly more weight over the front wheels, but the amount of disparity is constant.
That all changes once you start the engine and roll out onto the track.