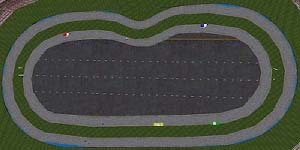 Bemidji driving tips
---
First I would like to say that for the driving tips found here at my site for all the tracks, I based the information on the manual and to some extent my driving experience and style. We'll use the standard 450 hp Viper [viper.car in the Hacks] and basically the Default setup. Once you learn the fastest line around the track you can start adjusting your setups for speed. I should add that no matter how you adjust your setups, the fastest line around the track should always remain the same and consistancy in following that line and controlling your race car is important.
NOTE: When using the default setups, you might want to adjust the wheel lock in order to make steering your car more managable with your controller. That's usually the very first adjustment that I make.
I drive all cars and tracks:
With a wheel controller
In simulation mode
ABS set to low
No Traction crtl
No Yaw control
---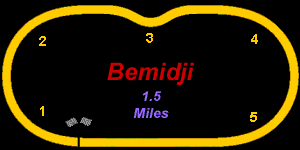 Bemidji is a good beginner's track. It's fairly easy to drive, yet rewards smoothness. This track is an oval with a twist (or rather, a kink).
We'll start with Turn 1; snug up to the wall as you approach the Start / Finish line. Turn into Turn 1 as you pass the last Start / Finish check.

Be gentle; wish the car to the inside of the track as you reach the first 40-foot trailer.

It's important to hug the inside line (apex) throughout Turn 2 to obtain the quickest lap times. Use caution as not to catch the grass.

As you exit, smoothly unwind the steering towards the middle of the track. The chicane lies ahead (Turn 3). Keep the pedal to the medal.

Touch the initial piece of yellow-and-black-striped curb about a third of the way into it.

Ease to the left and put your left front tire on the last third of the next left-hand curb.


Straighten the remainder of the corner, just nicking the last bit of the right-hand curb, and drift to the middle of the track.

Bend your line into Turn 4, holding the car next to the grass until the small MGI sign centers on your windshield.

Drift to the wall as you exit Turn 5, blast down the straight heading towards the Start / Finish line.

Here's a two lap replay in case you need to see the line in action.
Lap times on replay; lap one - :44.65, lap two - :35.96
Unzip the file to your Viper Racing \ Config \ replay folder.
NOTE: You must be using the 1.2.3 BETA patch.
The car used was the 450 hp Dodge Viper that came with the game [viper.car].

Below is a graphical representation as the best way to treat the turns at Bemidji.
Even though Turns 1 - 2 and 4 - 5 are actually constant radius turns, it's best to apex at the latter of the turn.

Turns 1 - 2 and 4 - 5

Turn 3